Our Club
Alnwick and District Camera Club was originally formed in 1901 by a group of chemists and their friends. All, of course, used film and printed their pictures in the darkroom. No digital cameras then!
The Club closed during the two great wars and then was reconstituted in 1952. It has met continuously every Wednesday from September to April ever since and for the last 25 years or so in the Mechanics' Institute in Percy Street, Alnwick.
There are over 60 members from all walks of life and with many different approaches to photography.
Where the founder members used film and printed and developed their photographs in the darkroom, most Club members, though not all, now photograph and print digitally. The Programme, over a 33 week season, is designed to support, teach and develop members' skills and to show, by inviting experienced photographers to show their work, the best of slide and print photography. There is, also, a variety of competitions through which members can test their progress.
The Club is affiliated to the Northern Counties Photographic Federation, a group of about 50 clubs in northern England. This NCPF offers opportunities for Club members to meet and compete over a wider range than they would if they met only within the context of their own club.
The club has a page on Facebook.
---
David Burn LRPS
Congratulations to David Burn who has been awarded LRPS by the Royal Photographic Society
---
Margaret Whittaker ARPS
Congratulations to Margaret Whittaker who has been awarded ARPS by the Royal Photographic Society
Combine Harvesters
On a gentle hillside in North Northumberland one can find some three hundred old, broken and rusting, combine harvesters.
None has a future as a working machine, only as spare parts. Only the pieces of machinery with a little life remaining are sold. The pieces with no useful life gradually rot, decay and rust, with nature sometimes intertwining within and between them.
This body of work depicts my personal engagement with these latter pieces. Through their 'end of life' structures I offer you the forms and textures that inspired my submission.
While on first observation they appear worthless, on a closer look the man-made, eroded outer casings combine with natural elements to reveal shape, texture, colour and areas of great beauty.
This panel reveals that beauty can exist even in decay.
---
Doug Ross
We were all greatly saddened to hear of the passing of Doug Ross. A page has been set up for members to share their memories of Doug.
---
Interclub Themed Competition
Alnwick Camera Club entered the annual interclub projected image themed competition which was due to be held at Cambois on March 18th.
Because of the coronavirus crisis the meeting was cancelled but the images had already been judged and so the results were circulated to all the participating clubs.
Judge Alan Porrett scored each of the images out of 30. The themes were Landscapes, Interiors, Portraits, Still Life, Flora & Fauna and Fantasy, Legend, Myth or Religion. Each club entered ten images with not less than one and no more than two in each of the above categories.
Six clubs entered and Alnwick came third - the winners were our friendly rivals Morpeth - well done to them!
The results were: 1st Morpeth Camera Club 260 pts 2nd Amble Photographic Group 257 pts 3rd Alnwick and District Camera Club 255 pts Ashington Camera Club 255 pts 5th Blyth Photographic Society 246 pts 6th Cambois Camera Club 239 pts
The images that comprised the Alnwick entry were:
Four images in the competition were awarded the maximum 30 points, one of these being Concentration by Alnwick member Jane Coltman
---
NCPF Club Championships
In the PDI competition the winning club was again Gosforth with a total of 243 points followed by Alnwick with 227. Both clubs will represent the NCPF in the PAGB DPI Competition later in the year. The winning Digital Image was by Bob Turner of Hexham with "Winter Scene". The full result was as follows:
| | | |
| --- | --- | --- |
| 1st | Gosforth CC | 243 |
| 2nd | Alnwick CC | 227 |
| 3rd | Morpeth CC | 225 |
| 4th | Saltburn PS | 224 |
| 5th | Northallerton CC | 223 |
| 6th | Stanhope PS | 221 |
| 7th | Blyth PS | 220 |
| 7th | Whitley Bay PS | 220 |
| 9th | Hexham PS | 219 |
| 10th | Stockton CC | 214 |
| 11th | Gallery PG | 212 |
| 11th | South Shields PS | 212 |
| 11th | Whickham PC | 212 |
| 14th | Cambois CC | 211 |
| 14th | Stokesley PS | 211 |
| 16th | Castleside PC | 210 |
| 16th | Tynemouth PS | 210 |
| 18th | Ashington CC | 209 |
| 19th | Guisborough PG | 208 |
| 20th | Consett PS | 207 |
| 20th | Wear Valley PC | 207 |
| 22nd | Cramlington CC | 204 |
| 23rd | Gateshead CC | 200 |
| 24th | Chester-le-St CC | 199 |
---
Presentation Night 2019
Alnwick and District Camera Club celebrated the end of another successful season at their annual presentation evening. Trophies were presented by Elaine Foreman (left) wife of the club president Gerry Simpson (right) and among the winners were Malcolm Kus, David Burn, Jane Coltman and John Whittaker.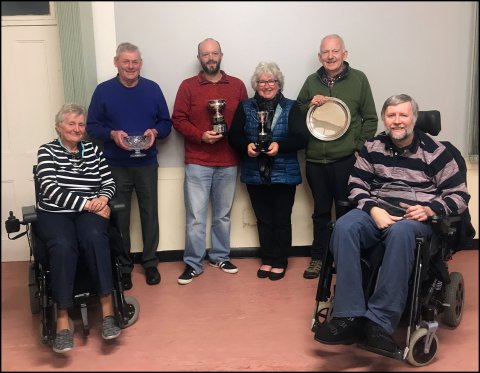 Picture by John Thompson
Alnwick Garden
A partnership between Alnwick and District Camera Club and The Alnwick Garden has seen the garden's Roots and Shoots charity receive over £1000.
Camera Club members have had three annual exhibitions showcasing their images taken at the garden throughout the seasons.
The Camera Club reaches a wide audience with the exhibition and in return Roots and Shoots gain a percentage of the profits from sales of any prints sold. Camera Club chairman Laine Baker is seen presenting the profit of over £300 from this year's exhibition to head gardener Trevor Jones. The exhibition is organised by Margaret and John Whittaker and this year featured 90 images shown over eight days.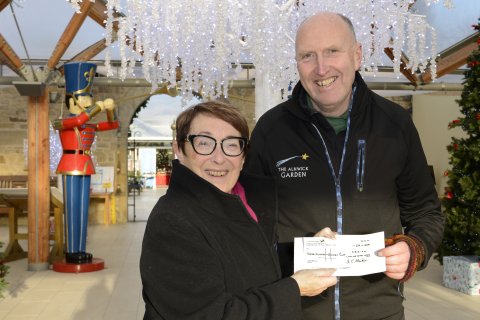 ---
Presentation Evening 2018
Alnwick and District Camera Club held their presentation evening at the end of another good season.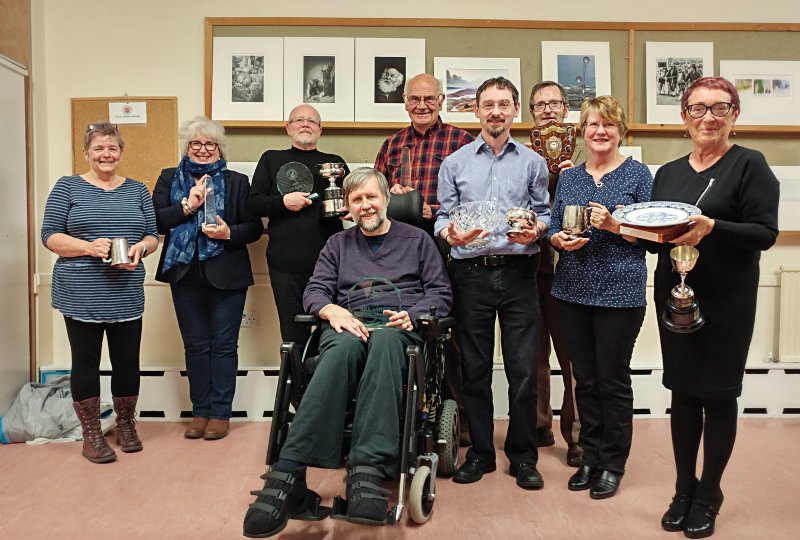 Pictured with their awards are from left, Dawn Groves, Jane Coltman, Michael Mundy, new club president Gerry Simpson, Andrew Mackie, outgoing chairman Dave Dixon, Stanley Trafford, Christine Grey and new chairman Laine Baker.
Picture by Geoffrey Bradford
---
Congratulations To Micheal Mundy
Congratulations to Micheal Mundy on his image "Ivan" being selected for the Leica Master Shot Gallery.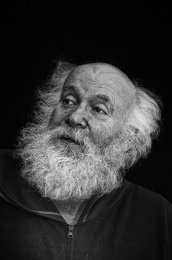 ---
Gerry Simpson ADPS
Congratulations to Gerry Simpson who was recently awarded Associateship of the Disabled Photographers Society.
---
Alnwick Garden
Alnwick and District Camera Club have presented the profit from a recent exhibition at The Alnwick Garden to the Alnwick Garden Trust where it will be spent on the Roots and Shoots programme which is dedicated to children with additional needs. Head gardener Trevor Jones accepted £452 from the Camera Club treasurer Andrew Mackie.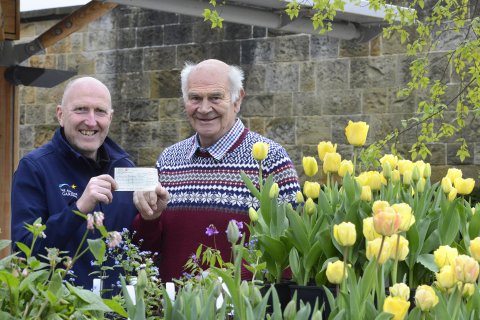 Picture by Jane Coltman
---
Awards Night
Alnwick and District Camera Club held an annual presentation evening to mark the end of their season. Guest of honour was Rosemary Mason, sister of Gene Bache, a club member for many years. She is seen with prizewinners Gerry Simpson, John Strong, Carol MacKay, Kevin Murray, Jane Coltman and Dennis Hall.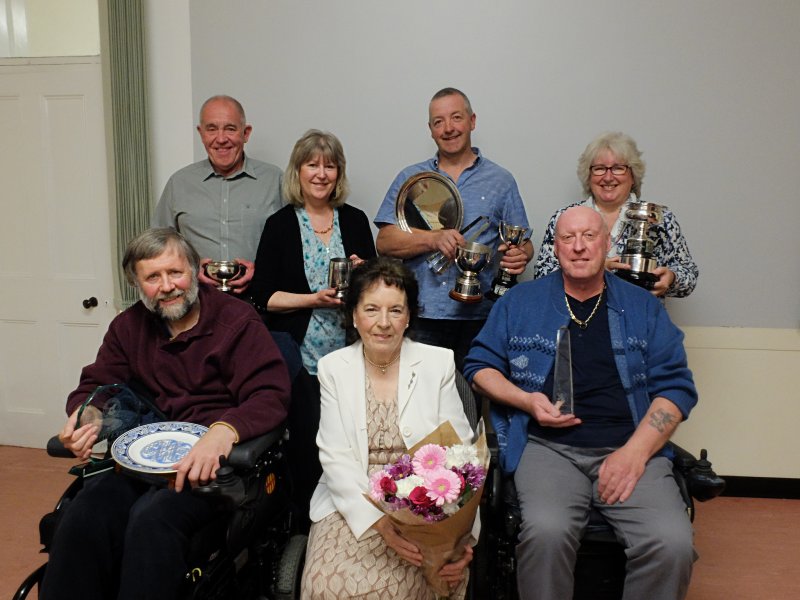 Picture by Dawn Groves
---
Alnwick Garden
A range of fantastic images taken in The Alnwick Garden by members of Alnwick and District Camera Club are on display this week. It is the club's second exhibition at the Garden and the pictures show an imaginative range of styles, taken in day and night-time. Prints are available to purchase with 40% of all profits going towards the Roots and Shoots Community Project.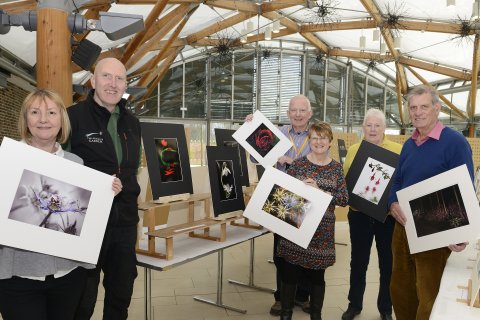 Trevor Jones, head of operations at the Alnwick Garden said ' It is a pleasure to host this exhibition, the artistic abilities of the club members always amaze me and the images give great inspiration.'
From the Northumberland Gazette
---
Alastair Cochrane FRPS
Congratulations to club member Alastair Cochrane, who has has achieved the distinction of FRPS from the Royal Photographic Society (the first FRPS in Scotland in 2 years).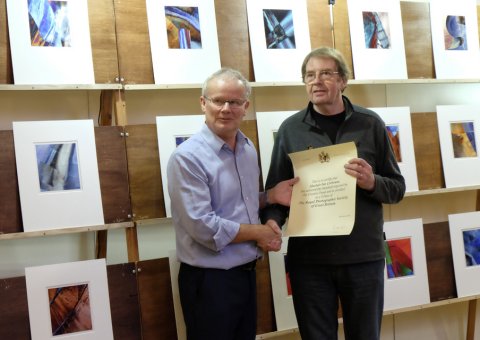 Alastair's panel of 20 images featured the work of the architect Frank Gehry
Gehry Reconstructed

Los Angeles-based architect Frank Gehry is recognised as one of the leading architects of the last fifty years, noted for creating innovative and inventive forms utilising sophisticated purpose-created software to produce drawings which refine the design and enable construction.
I have used my original photographs of Gehry's 'Experience Music Project' building in Seattle to produce new abstract images which comment on the realisation of this structure, exploring its curving, multi-coloured metal planes, which in turn are influenced by guitars deconstructed by the musician Jimi Hendrix.
Each final image has been created by merging individual photographs of this highly complex building. Colour shifts emerge serendipitously through the process of layering, mirroring the way that the building morphs and changes with each different viewpoint. I have deliberately used a square format to communicate the formalism of architecture contrasting with the energy and free flowing forms constrained within its boundaries.
---
Interclub Mono & Colour Print Competition
These images were the club's successful entry for the interclub print competition at Amble on Thursday 27th October 2016.
---
Congratulations To Micheal Mundy
A photograph by Camera Club member Micheal Mundy features in the British Journal of Photography's Portrait of Britain exhibition.
Envisaged as an exhibition by the people, of the people and for the people, Portrait of Britain was initiated as an open call for photographs that celebrate this country's unique heritage and diversity.
Selected from nearly 4000 entries, the 100 winning portraits capture young and old, reflecting not just the multiformity of British people, but also the myriad of styles and approaches to contemporary photographic portraiture.
Micheal's portrait Ossie can be seen on a digital network of screens in railway stations, shopping centres (such as Eldon Square seen here), high streets and bus stops around the UK.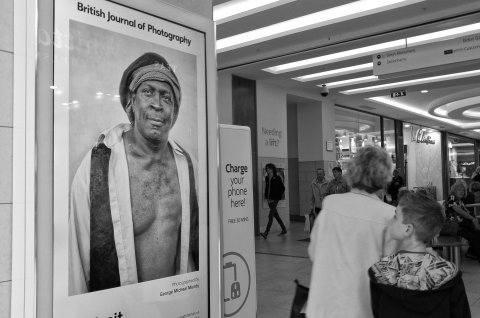 Many congratulations to Micheal for having an image included in such a prestigious exhibition.
---
Presentation Evening 2016
Alnwick and District Camera Club held their annual presentation evening in the Mechanics Institue where the trophy winners were ( back from left) Andrew Mackie, David Burn, Peter Downs, Richard Stent, (front) Dennis Hall, president John Thompson, Laine Baker and vice-president Ken Shawcross who presented the awards.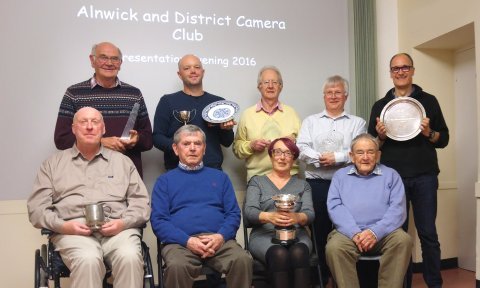 ---
Pat Wood LRPS
Congratulations to Pat Wood for being awarded the Licentiate of the Royal Photographic Society.
Her panel of 10 images is shown below:
---
John Thompson ARPS;EFIAP;CPAGB
Congratulations to John Thompson, who has been awarded "Excellence" by the International Federation of Photographic Art.
---
Micheal Mundy LRPS
Congratulations to Micheal Mundy for being awarded the Licentiate of the Royal Photographic Society.
His panel of 10 images is shown below:
---
Jane Coltman - Playhouse Exhibition
Jane's previous editor Andrew Smith, the Duchess of Northumberland and Jane Coltman at her exhibition in The Playhouse: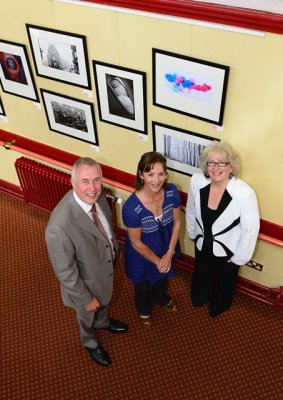 ---
Congratulations To...
John Thompson
Congratulations to John Thompson on gaining his AFIAP as well as a gold medal and two silver medals from international salons this summer.
Peter Downs
Congratulations to Peter Downs who has achieved the distinction of Licentiate of the Royal Photographic Society at a recent assessment.
---
Presentation Evening, 30th April 2014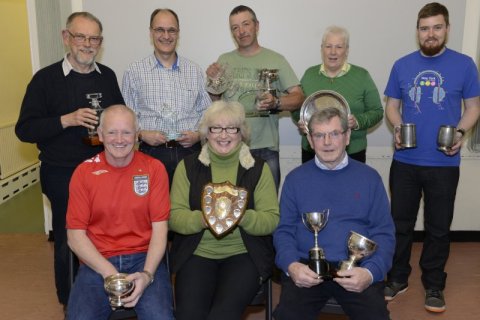 ---
Congratulations To Peter Downs
Congratulations to Peter Downs who has achieved the distinction of Licentiate of the Royal Photographic Society at a recent assessment.
Peter's successful panel of images was presented as prints
---
Peter Downs
Congratulations to Peter Downs on winning the "Through the Lens" competitions organised by Amble P.S.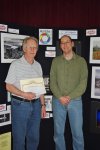 ---
Presentation Evening - 1st May 2013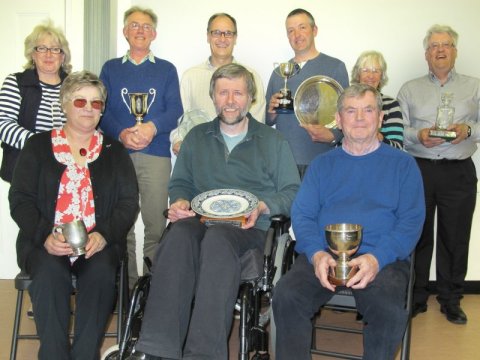 Alnwick and District Camera Club trophy winners Jane Coltman, Paul Penman, Gordon Charlton, Kevin Murray, Jean Findlay, Nick Johnson, Judith Snaith, Gerry Simpson and (front right) club president John Thompson who also presented the awards.
---
Alan Ainsworth
Click here for details of a new book featuring photography by club member Alan Ainsworth.
---
Club President
John Thompson was invited to become the new president of the club.
The committee decided to ask John as he has given so much to the club over years, from serving on the committee in varied roles, being the leading light behind the Playhouse event and perhaps most importantly offering support and advice to members on all things photographic - I'm sure most of us have asked John for his help or opinion at one time or another!
The club means a lot to him and he does to us so I'm delighted to say that although struck dumb with surprise (for a few moments!) he agreed to accept the role.
---
Warkworth Flower Show
Congratulations to Dawn Groves who has won the OPEN section of the Warkworth Flower Show Photography Competition.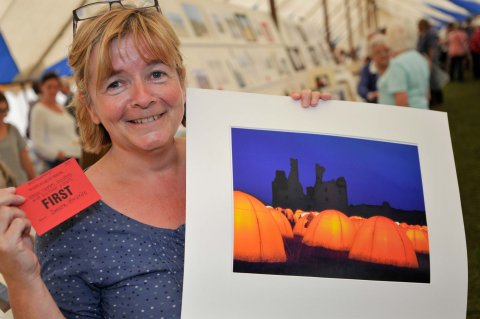 ---
Awards Night 2012
At the Alnwick & District Camera Club Awards Evening the guests of honour were Ken and Margaret Moore (front left and right) from the Mechanics' Institute where the club meets. They are to be seen with prize winners (back) Sue Baker, Margaret Whittaker LRPS, John Whittaker, Barry Robertson LRPS, Dawn Groves, Jane Coltman CPAGB, John Thompson ARPS, (front) Gerry Simpson LRPS and Ken Shawcross.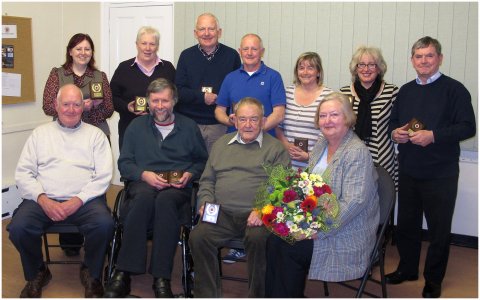 ---
Festival Of Alnwick Medal
Jean Findlay has won the Festival of Alnwick medal for the print competition in the Playhouse. Here she is presented with her award by the Duchess of Northumberland.
The subject of the competition was SPORT, so it was appropriate that Olympic swimming medalist Nick Gillingham was also at the presentation.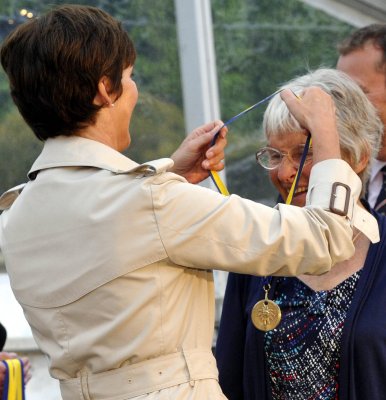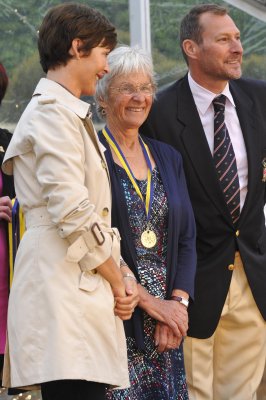 ---
Ken Shawcross
Ken Shawcross has been made an honorary life member of Alnwick Camera Club in recognition of his long service and support of the club.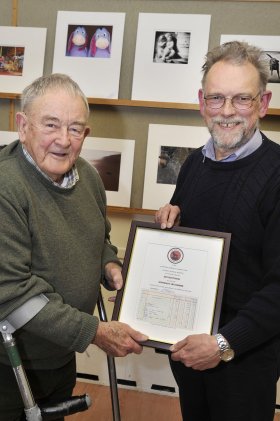 Ken (left), who joined the group in the 1970's was presented with the award by club chairman David Carter.
---
---